I am a huge fan of oatmeal, always have been and summer has always put the lid on my oatmeal love. (Who wants to eat a nice warm bowl of oatmeal in 80' heat?) So for the same reason I prefer to grill all summer and not heating my kitchen up more than needed. I was thrilled out of my pants when I saw these recipes. I bought the basic ingredients for them. I am using coconut milk and coconut greek yogurt instead of regular of course, but I can't wait for tomorrow morning! Below are the recipes that I lovingly stole from another Blog. ENJOY!
Overnight, No-Cook Refrigerator Oatmeal
A healthy breakfast made in mason jars in six different flavors!
| | | | | |
| --- | --- | --- | --- | --- |
| Share this with your friends: | | | | |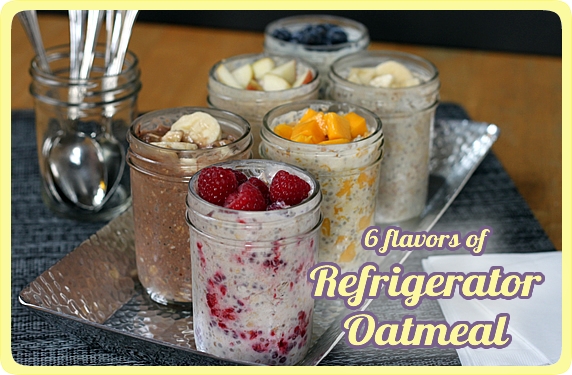 This easy, no-cook "summer porridge" has make-ahead convenience and is packed with nutrition to get your day off to a healthy start. Make it in individual mason jars for a perfect serving size and an easy grab-and-go breakfast straight from the fridge (it's eaten cold). Take it along to work or anywhere. Great to serve on a breakfast or brunch buffet. High in protein, calcium & fiber; low in fat & sugar.
Apparently this kind of cold yogurt & oatmeal mixture has been around for awhile. I don't know where I've been, because I'd never heard of it until I saw a recipe by Christie at
Pepper Lynn
on Pinterest. We eat a lot of
steel-cut oatmeal
in the winter months, but it never appeals to me once the weather heats up. Learning about refrigerator oatmeal excited me, because it offers a way to enjoy oatmeal year round. Yummy reader, Kelly, called this "Summer Porridge" in a comment on my
Facebook
page--I'd never heard of that either. After some googling, I discovered that refrigerator oatmeal, yogurt oats, and summer porridge are all names for the same thing. Whatever you call it, this stuff is delicious!
I played around with some different flavor combos, and created single portion recipes that will fit in a half-pint mason jar. I've been pulling these out of my fridge and eating them for breakfast all week. LOVE the convenience of having them made ahead. They are filling and packed with nutrition, too.
ch-ch-ch-CHIA seeds.
I followed Pepper Lynn's lead and included chia seeds in my refrigerator oats recipes. I've been hearing a lot of buzz about the nutritional powerhouse in these teensie little seeds, and this is a great way to sneak them into your diet. Chia seeds:
have more Omega 3 fatty acids than flax seed (important for heart health)
are the richest non-marine whole food source of Omega-3 (better than salmon)
absorb 10 times their weight in water and transform into a gel-like substance--great for athletes for maintaining hydration and helps with weight loss by making you feel full longer
are as high in protein as quinoa
are loaded with calcium, potassium, Vitamin B, and anti-oxidants
help balance blood sugar via the gelling action of the seed and it's unique combination of soluble and insoluble fiber that slow down your body's conversion of starches into sugars
have a neutral taste so they will take on the other flavors in a recipe
can be eaten whole (unlike flax seed); they don't have to be ground before adding them to food in order to digest them and benefit from their nutrients
have a two year shelf life, stored at room temperature (flax seeds quickly become rancid and loose their nutritional value)
Sources:
Dr. Oz
,
Dr. Weil
,
NutritionData
,
LiveStrong
In addition to chia seeds, this refrigerator oatmeal has protein- & calcium-packed yogurt and fiber-rich oats. It's hard to find a healthier breakfast than this.
Weight Watchers Points Plus:
between 4 and 9 points per jar (view individual flavored recipes for specific points)
How to make 6 flavor varieties of Refrigerator Oatmeal.
I had fun experimenting with different flavor combinations and settled on six favorites. They all start with the same basic ingredients and procedure.
Step 1.
Assemble these ingredients & supplies:
old fashioned rolled oats (not instant, quick, or steel-cut)
Greek yogurt (regular yogurt is thinner; if you use it, you'll need to reduce the amount of milk); read

my post

for easy instructions for straining regular yogurt to make Greek yogurt.
milk (I used skim, but any kind will work)
chia seeds; I bought mine at Whole Foods; available on Amazon,

click here

half pint (1 cup) mason jars, find them at Walmart and grocery stores; available on Amazon,

click here
Specific amounts of each ingredient are listed with the recipes of each flavored refrigerator oatmeal recipe; they are further down in this post. Click on the big purple bar below each flavor and that links to the recipe with detailed ingredients and instructions.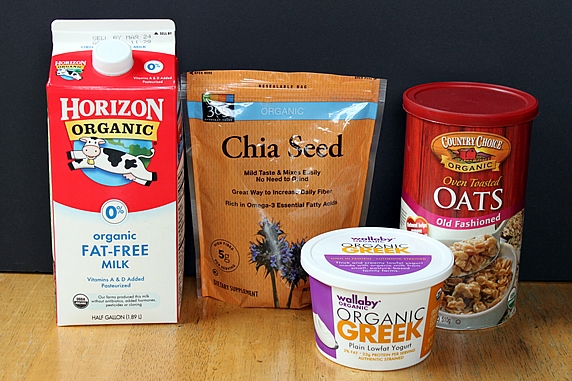 Step 2.
Add oats, milk, yogurt, and chia seeds to jar, along with desired sweeteners or flavors (see options below).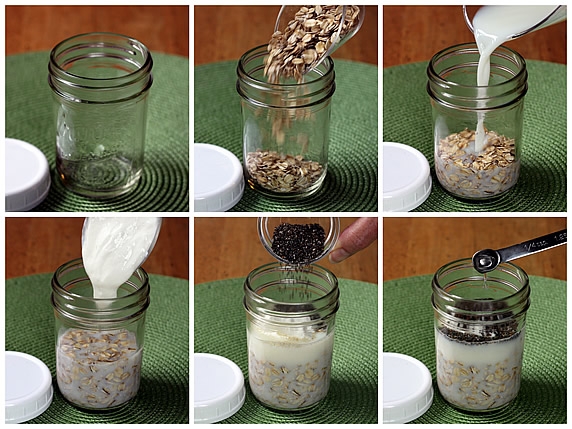 Step 3.
Put a lid on the jar and shake to combine. (I use white plastic jar lids sized to fit canning jars--they last longer than the metal tops and rims that come with the jars, and they are easier to screw on and off; some Walmarts carry them, and they're available on Amazon,
click here
)
Step 4.
Add fruit and stir gently until combined.
Step 5.
Place in fridge overnight and up to 2 days; maybe longer depending on the type and ripeness of the fruit. The non-banana varieties have been good after 4 days for me.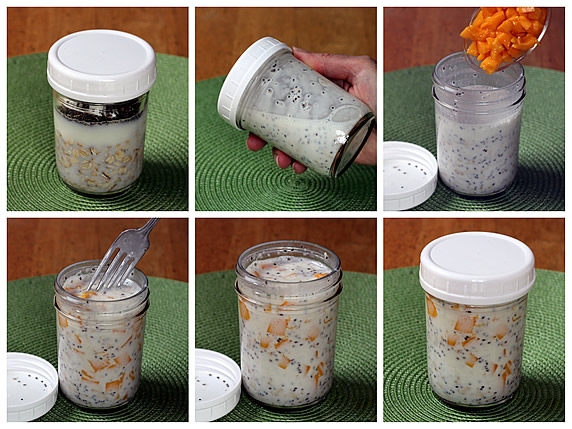 During the overnight soak, the oats and chia seeds absorb the liquid and soften. They have a great eating texture by the next day.
Here are my six favorite flavor varieties.
Mango Almond Refrigerator Oatmeal
Flavored with fresh mango, honey, and almond extract. (If you don't know how to cut a mango, check out my
previous post
.)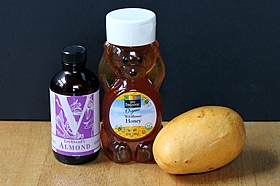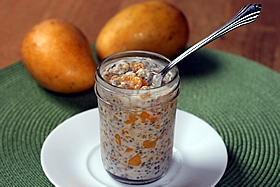 Blueberry Maple Refrigerator Oatmeal
Flavored with fresh blueberries and maple syrup.
Apple Cinnamon Refrigerator Oatmeal
Flavored with unsweetened applesauce, cinnamon and honey.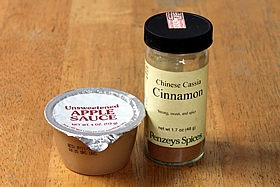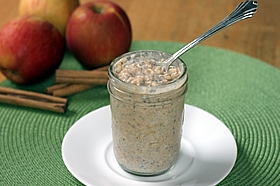 Banana Cocoa Refrigerator Oatmeal
Flavored with bananas, cocoa powder, and honey.
(A healthy way to eat chocolate for breakfast. Feel free to squeal with delight!)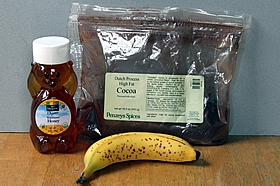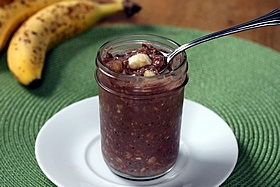 Banana Peanut Butter Refrigerator Oatmeal
Flavored with bananas, peanut butter (or PB2), and honey.
What is PB2?

I recently discovered this amazing powdered peanut butter. It's simply peanut butter with 85% of the fat removed. With all of the flavor and protein of regular peanut butter, PB2 is recommended as a great way to reduce calories in all of your favorite peanut butter recipes. It's available at some Whole Foods and health food stores, and on Amazon,

click here.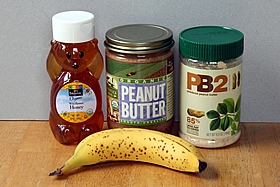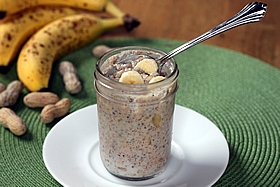 Raspberry Vanilla Refrigerator Oatmeal
Flavored with fresh raspberries, raspberry preserves or spread (I used a no-sugar added fruit spread), and vanilla extract.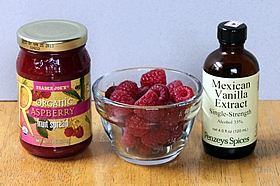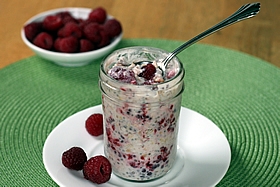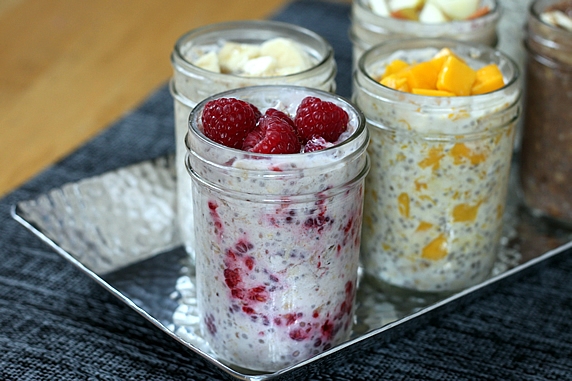 Honestly, if you asked me to pick a favorite flavor, I couldn't choose just one. I've enjoyed having a variety of these jars in my fridge for an easy, yummy, nutritious breakfast each day.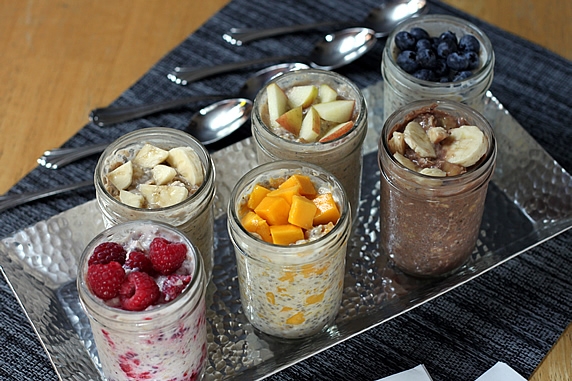 These would be fun to serve on a breakfast or brunch buffet. Garnish the tops with some additional fresh fruit to help identify the flavor and make a prettier presentation.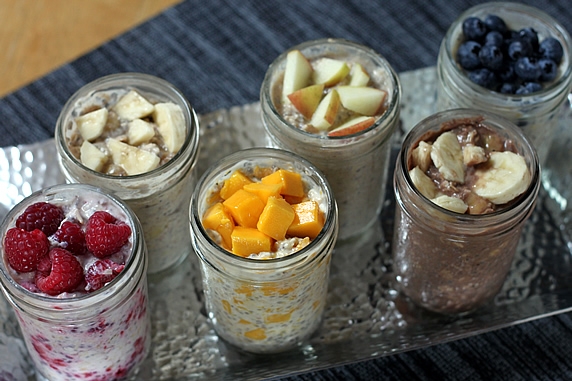 This marriage of yogurt, oats, chia seeds and fruit is my new favorite breakfast. The hard part is choosing just one flavor per day. Which one looks good to you?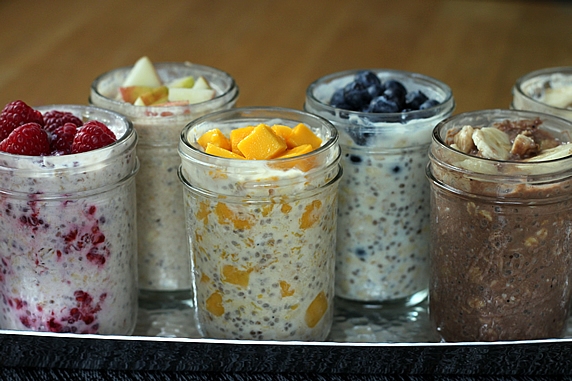 You might also like
Pepper Lynn's
strawberry/banana and pumpkin/peanut butter flavor combos. I'm anxious to give those a try, too.
Make it a yummy day!